7 March 2016
We had a few showers during the night but the morning was fine, although the tent was quite wet. We packed up fairly quickly and were on the road by 9:15 (NSW time).
Our destination is Boorkoom campground in Yuraygir National Park, near Diggers Camp just north of Wooli. We had missed this during our walk last year so I wanted to check it out and get some photos of white-breasted sea eagles, which we had seen frequently during the walk.
It's a small campground with not much shade and not much flat ground, but we found a spot with a bit of shade. Hoping to see a sea eagle we drove the sort distance to the Wilsons Headland picnic area and walked out to the lookout. Although we sat there for ages, we saw no eagles. We did see a Spangled Drongo and a Little Wattlebird on the walk out.
Spangled Drongo, possibly juvenile
Little WattlebirdWilsons Headland
The choice of campground wasn't the best for Bev as it's at the top of a cliff and, although there are stairs down to the sea there isn't really any beach. It has some sand but is mostly rock and large pebbles.
8 March 2016
Up before sunrise and down to the 'beach' for some photos.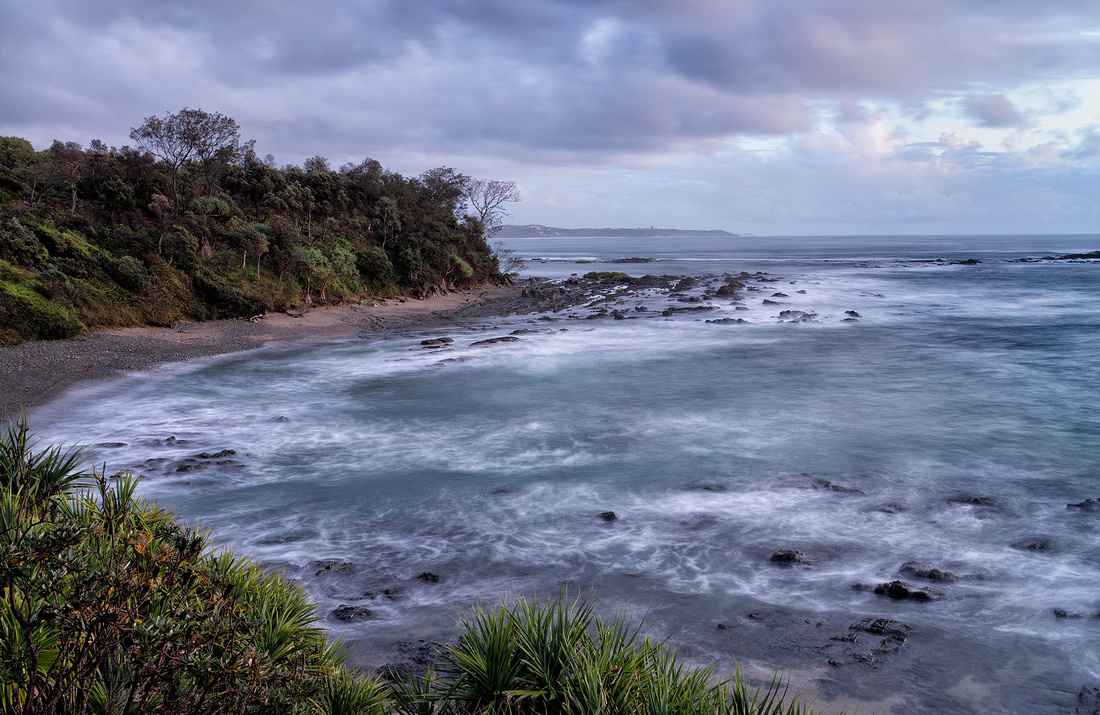 Morning near Boorkoom Campground, Yuraygir National ParkJust before sunrise
Morning near Boorkoom Campground, Yuraygir National ParkSunrise. More rocks than beach.
Morning near Boorkoom Campground, Yuraygir National Park
Later in the morning we drove the few hundred metres to Diggers Camp for a swim - it was quite hot again. Conditions looked a bit dangerous with a biggish swell, a strong set along the beach and a drop-off a few metres in. We went in but stayed near the edge, however we got out fairly quickly after Bev was knocked over a couple of times by the waves. It looked safer a bit further along the beach, but when we got there we could see the fins of sharks swimming around. We had a cold shower under one of the pipes set up that diverted water from streams on the hill.
After lunch we drove to Minnie Water for a walk on the beach and coffee and cake at the shop. We should have come here for our swim as it looked quite safe. it was now overcast with showers so at least it was cooler.
Later in the afternoon, I sat around for an hour at the cliff edge waiting for a sea eagle to fly past, but no luck. But as the sun was setting, we walked down to the cliff edge and had a sea eagle and a couple of kites fly past within five minutes of each other. Of course I had packed up the camera for the night.