Diggers Camp to Wooli
6.5 km
A smoky haze from bushfires burning off to the South West, is visble out to sea this morning.
Cormorant on rocks near Illaroo campground
Rob, Bev and I drive to Wooli and walk North to meet the others walking south. Fons is organising sites at the Solitary Islands Marine Park Resort at Wooli.
Wooli beach makes up most of the distance and much of it is rather soft sand.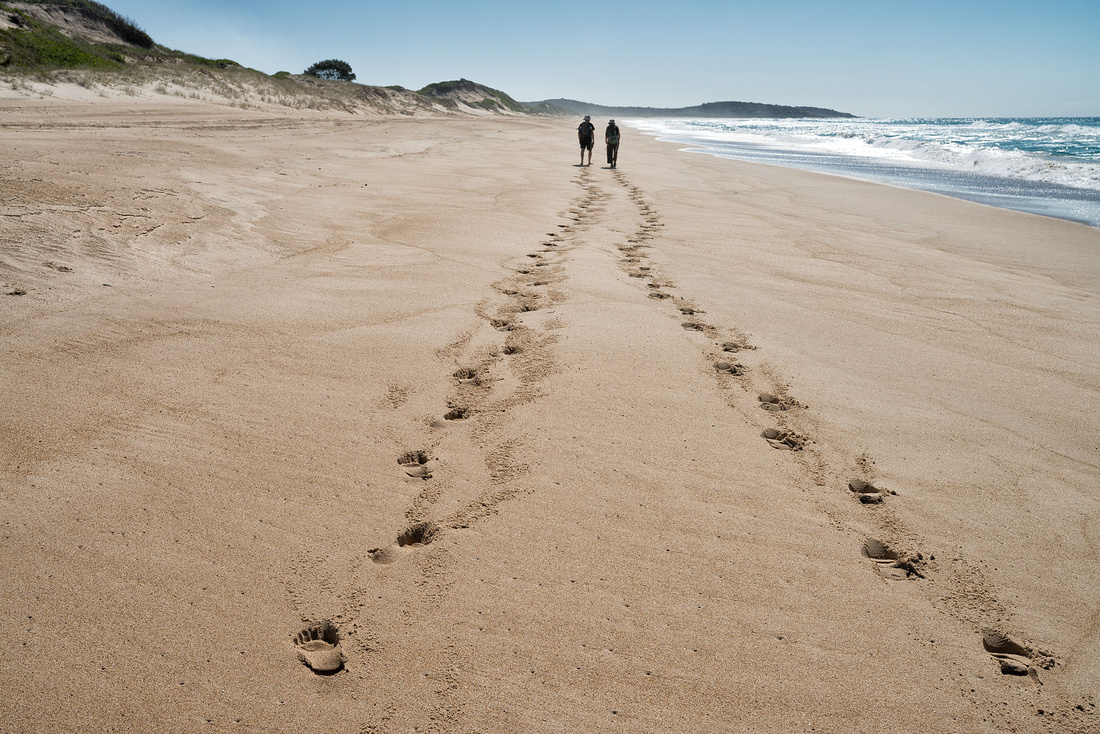 Making TracksRob and Bev on Wooli Beach
We come across a dead turtle.
Rob and Bev lookin at a dead turtle, Wooli Beach
Grass and ripples in the sand make some interesting patterns.
Time to break for a snack.
Rob and Bev having a break, Wooli Beach
From the beach we seem some whales breaching well out to sea. We climb the dunes for a better look but only see some spouting.
We expect to meet the rest of the group along the beach, but we don't see them until almost at the Northern end of the beach. They have spent a lot of time watching for whales.
Bev returns to Wooli with Marg, Carol, Olive and Irene while Rob and I continue to have a look at Wilsons Headland at the Northern End of the beach.
In this view from Wilsons Headland, you may be able to make out the rest of the group part way along Wooli Beach with Wooli in the distance.
Wooli Beach from Wilsons HeadlandWooli is at the far end of the beach.
Rob and I stop at a viewing platform and see some more whales, but they are too far away to photograph.
Rob whale-watching on Wilsons Headland
Another view looking back towards Wooli.
Wooli Beach from Wilsons Headland
This lagoon is behind the Northern end of Wooli beach.
Lagoon behind the northern end of Wooli Beach
Wooli is the end of our walk. The caravan park includes free use of kayaks and canoes and we make use of them. Bev and I take a canoe, Olive takes a Kayak and Marg and Carol use their own Kayak. We spend a pleasant hour paddling on the river in the late afternoon sun. No photos as I wasn't game to take the camera in the canoe.
The hot showers (at last) at the caravan park are very welcome and we enjoy relaxing beside the river before dinner at the bowls club.
Relaxing at Wooli, the end of our walk
Tomorrow we will go our separate ways; some, including Rob, Bev and I, returning home, while others will stay a little longer.
More photos can be found in the gallery.