Thursday.
At 6:30 am and with the temperature at -2, we left the apartment to meet Sam's friend Mike for a hike in Bukhansan National Park. This national park is completely surrounded by urban areas. Despite the cold it was a beautiful sunny day. Here we are at the start .
I think we spent more time taking photos than we did walking. Sam is taking a photo with Mike and Rowan waiting patiently.
Bev found the going a bit difficult at times.
There were plenty of stairs to climb and we were glad to reach the top.
The track leads to an old defensive wall with a number of gates. Surprisingly there was very little wind making it very pleasant in the sun but rather cold on the shady side of the mountain.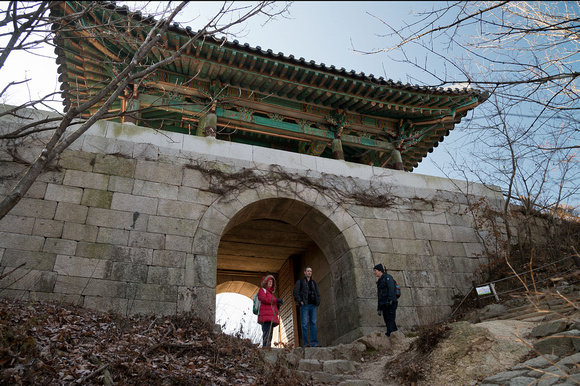 The track gives some great views. This is on the way to a Buddhist temple, not far from the gate. You can see part of Seoul through the smog, and Sam is taking yet another photo. This is MIke's favourite place in Korea.
The Buddhist temple has several buildings. This one is built into a cave.
Inside another of the buildings.
There were small patches of ice on the trail and some attractive icicles along the stream on the way down.
The further down we went the more water there was in the stream with some nice waterfalls.
We finished up with lunch at a restaurant near the end of the trail. It was great to sit down after seven hours on the trail.