Saturday 5 Sep 2015
Sunrise on our first full day was pleasant although a bit uninspiring due to the lack of clouds.
Lake Broadwater before Sunrise
Lake Broadwater before Sunrise
Lake Broadwater before Sunrise
Lake Broadwater at Sunrise
Lake Broadwater at Sunrise
After breakfast we went for a walk along the lake shore to the bush camp, although we never actually found it. The cockatoos and corellas were noisily active in the trees.
Little Corellas, Lake Broadwater
The walk was pleasant with small signs identifying some plants and points of interest but some of the signs were unreadable. This is the remains of a dingo fence from the 1800s.
We heard a few bird calls, but didn't actually see many apart from the cockatoos. These are Little Friarbirds.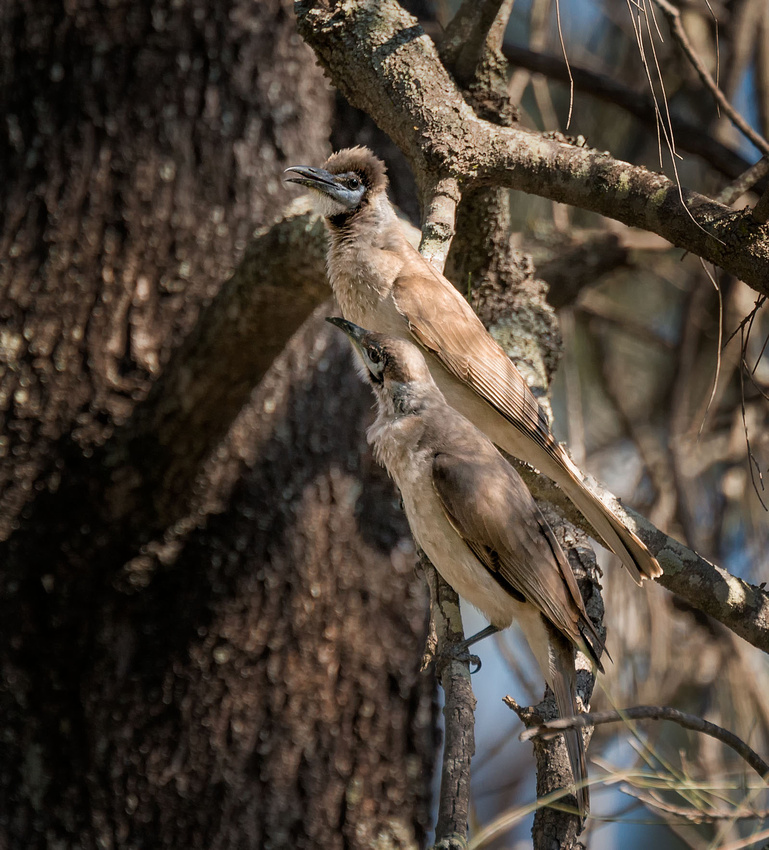 Little Friarbird, Lake Broadwater
We had asked the caretaker about the number of visitors on the weekends and were told that numbers were small until the ski season started. We heard the boat engines while returning from our walk, so sat and watched some skiing while we ate our lunch. Note the colour of the water.
There were only a couple of boats and they didn't stay much after lunch.
Mid-afternoon we returned to the bird hide but didn't see much activity. We sat on a log in the shade for a while and enjoyed the quiet and watched a few birds. A pair of black swans with young, out on the lake, chased away an intruding swan. This Striped Honeyeater found a meal.
Striped Honeyeater, Lake Broadwater
and a crow foraged along the shore in front of us.
Later in the afternoon, I left Bev resting at the tent and went for a walk looking for photos in the afternoon light.
Around Lake Broadwater
Around Lake Broadwater
We still haven't seen the mysterious inhabitant of the neighbouring tent - only heard coughing and a radio playing quietly.
A relaxing day. The sun was quite hot and Bev got a little sunburned as her hat doesn't shade the back of her neck. We will have to buy a hat for her tomorrow, although we might not find many shops open on a Sunday.